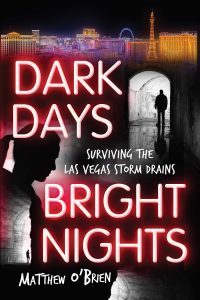 My book Dark Days, Bright Nights: Surviving the Las Vegas Storm Drains is now available via preorder. The book is a raw and honest oral account from people who lived in the underground flood channels of Vegas and made it out and turned around their lives. It also reveals a rarely seen side of Sin City and offers a portrait of homelessness and recovery in America.
Twenty-five percent of the proceeds I make off of Dark Days, Bright Nights will benefit Shine a Light, a Freedom House Sober Living program that provides housing, counseling and other services to those in the drains. The photographer, Steve Fanell, is donating his entire check to the program.
If you have any questions about the book, feel free to comment or email me. And thanks again for all of your support!
Las Vegas preorders
https://www.thewritersblock.org/?searchtype=keyword&qs=9781949481426&qs_file=&q=h.tviewer&using_sb=status&qsb=keyword
Preorders outside of Vegas
https://bookshop.org/books/dark-days-bright-nights-surviving-the-las-vegas-storm-drains/9781949481426
https://www.amazon.com/Dark-Days-Bright-Nights-Surviving/dp/1949481425